---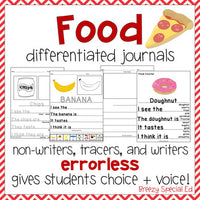 Food Themed Errorless Differentiated Journal Writing for Special Education / Autism
Do you have students who have difficulty coming up with their own thoughts? With three different levels included, this fun food /snack journal pack is perfect for all of your non-writers, emerging writers, and writers!
This pack is about all sorts of yummy snacks and foods. Both healthy and unhealthy options! :) Food topics include: pizza, cupcakes, apples, bananas, and more! There are 10 differentiated journals included in this digital download, enough to get you through 2 full weeks if you do a journal each day.
A classroom sample provides a picture, title, and four simple sentence starters with three *errorless* options to finish each sentence.
• Level 1 students "Non-writers" can color in the picture, trace the title, and cut and paste symbols (with or without aide support) to complete the sentence with their thoughts.
• Level 2 students "Tracers" can color in the picture, draw their own, trace the title and sentence starters and finish the thought by circling and/or writing one of the 3 choices on their paper.
• Level 3 students "Writers" have a blank journal where they draw and color the picture on their own, copy the sentences from the classroom sample, and also complete the sentence with the choice on the classroom sample (or cover up the choices and have them complete the thoughts on their own!)
I'm so excited to have one journal product that meets the needs of all of my emerging learners. I use this with my high school class, but it would be appropriate for early learners of any age. I hope you find this helpful as well.
☆☆☆Do you want to use these journals year round? Buy them all at a DISCOUNT in this bundle here!☆☆☆