---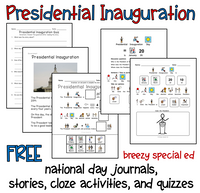 Good Stuff!
I love having this resource for my special education teaching! When my brain is tired, Breezy Special Ed has what I need.
My Go-To Source for Special Education Worksheets!
I teach high school students with an extremely broad range of abilities. Breezy Special Ed has so many ready to use, age- appropriate worksheets and activities for students with special needs. They are always current and very high interest. Worth every penny!
Perfect
My students enjoyed it thank you so much.
This was a great resource!
This was a great resource for my students. It was an easy description of the Presidential inauguration. Thanks for this wonderful resource.