---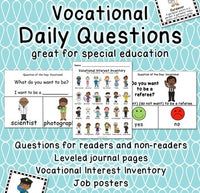 Vocational Visual Daily Questions with Job Posters for Special Education
This pack is perfect for students who are learning about careers and vocational exploration.
These daily questions are designed for students to get exposure to a wide range of jobs/vocations, to start thinking about what they might be interested in, and to practice answering questions errorlessly.
What's Included:
✔96 Questions
: Questions come in the form of 2 choices (32 question pages) or yes/no (64 questions pages).
✔64 Job posters
: Posters include a picture of the job along with a simple 2 sentence description of that job. Great to use to explain the jobs before asking the students to answer the questions!
✔Interest Inventory:
 Available in color or b&w. A great resources to include in a students IEP for transition information.
✔Differentiated Journals:
 Leveled journals allow for all students to respond in a written way as well (draw a picture, write one word, write a sentence, or write a because sentence).
See the preview for more details and let me know if you have any questions!
I use this with my high school special education class, but it would be appropriate for any grade special education or early childhood classrooms as well.
➫Check out more daily question packs

 

here.