---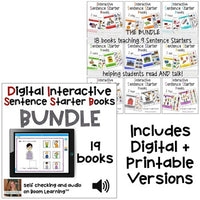 Sale
Interactive Digital + Printable Sentence Starter Books MEGA bundle
Sale price $40.00 Regular price $72.00
Mega discounted for those who want both versions!
Includes both: Interactive Printable Books and Interactive Digital Books
The sentences on the bottom all follow the same format of I (verb) ___(insert name of picture). Digital versions are hosted on Boom Cards and include audio.
Using carrier phrases like these help students get used to speaking in longer sentences and once you have them speaking in sentences while reading, you can encourage that even more in everyday activities!
★ Interactive Printable Books: 2 levels in 1
Each page has an optional top text to read (for more advanced readers) and a simple bottom sentence for everyone to read.
Reading

You Read - I Read Option: Staff reads top section, student reads predictable text at the bottom section (great for beginning readers/speakers or device users).
Level 1: Beginning readers only read bottom sentence. They may or may not read the smaller words (such as "the")
Level 2: Advanced readers read the entire page.
Interactive Pieces

Level 1: Students match the picture from the choice page to each page while they read.
Level 2: Students take off the picture from each page and match to the word on the choice page. 
★ Interactive Books with Audio on Boom Cards:
Boom Cards are compatible with Google Classroom™, SeeSaw, and other similar online platforms that permit you to assign by URL.
To use Boom Cards, you must be connected to the Internet. Boom Cards play on modern browsers (Chrome, Safari, Firefox, and Edge). Apps are available for Android, iPads, iPhones, and Kindle Fires.
For security and privacy, adults must have a Boom Learning account to use and assign Boom Cards. With a free account, you will be able to assign the Boom Cards you are buying with "Fast Pins" (play provides instant feedback for self-grading Boom Cards). Fast Play is always a free way for students to engage with Boom Cards decks. For additional assignment options and data collection, you'll need a premium account. If you are new to Boom Learning, you will be offered a free trial of our premium account. Read here for details: http://bit.ly/BoomTrial.