---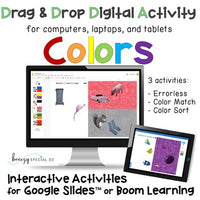 Distance Learning: Colors Interactive Digital Activities for Special Education
Students can drag and drop the pictures to sort by color on each slide. Students can either use on Boom Learning OR Google Slides by opening to edit on a computer or a device that has the Google Slides™ app downloaded.
Included are 3 different activities, all available either on Slides or Boom Cards:
1. Color Match Errorless
2. Color Match (1 color at a time)
3. Color Sort (2 colors at a time)
Google Slides:
Each activity on Google Slides also includes an intro page with a practice and an end page that you can customize with a personal note or telling students what to do next.
To use daily, be sure to reset so students can do it again. After students complete and you check their work, go to file -> version history -> click the original version to reset for the next day.
Make a copy for each student so they can complete all of the slides on their own.
OR assign a slide to each student and then go over it together.
Boom Learning:
Boom Cards are compatible with Google Classroom™, SeeSaw, and other similar online platforms that permit you to assign by URL.
To use Boom Cards, you must be connected to the Internet. Boom Cards play on modern browsers (Chrome, Safari, Firefox, and Edge). Apps are available for Android, iPads, iPhones, and Kindle Fires.
For security and privacy, adults must have a Boom Learning account to use and assign Boom Cards.

FREE account: Fast Play is always a free way for students to engage with Boom Cards decks. (play provides instant feedback for self-grading Boom Cards). You will need to regenerate a link every 14 days to share with your students.
Paid account: For additional assignment options, including data collection, you'll need a premium account. You will be able to create student log ins and can assign different decks to different students
Trial account included with this download: If you are new to Boom Learning, you will be offered a free trial of our premium account. Read here for details: http://bit.ly/BoomTrial.
________________
Breezy Special Ed 2020