---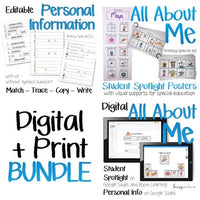 Sale
All About Me · Digital and Print · BUNDLE for Special Ed
Sale price $10.00 Regular price $14.25
This bundle includes everything "All About Me", including digital and printable student spotlight activities and also digital and printable personal information practice. This bundle includes the 3 following resources:
All about Me / Student Spotlight: This activity is great for introducing your students to their classmates at the beginning of the year or doing a student of the month. These are available as printable posters OR digitally on Google Slides and also on Boom Learning.
Give each student a chance to shine and tell the world (or your class) about themselves with this student spotlight digital activity! Each question has a variety of visual answers to help your students choose the response that best suits them.
Personal Information Slides:
Digital: Due to the nature of a personal information activity, these slides are only available on Google Slides (and not Boom Learning) so that you can customize these for each student. This digital personal information activity is designed for students who cannot type but are working on recognizing their personal info.
Once you customize the slides, you can share with students and they can drag and drop to move their correct personal info into each spot.
(Google Form also available for students who are able to type)
Printable: Easily customize the tracing forms by typing in a student's information once and it will auto fill the rest of the pages! The tracing forms repeat information and also physically fade the tracing prompts so that students can learn to become more independent while tracing their info. Other levels include: matching, copying, and writing. With or without symbol support.