---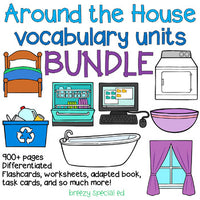 Sale
Around the House Vocabulary Units *BUNDLE* for special education
Sale price $60.00 Regular price $93.50
This HUGE bundle is perfect for special education students and those who are learning basic vocabulary.
These units provide opportunities for students to learn and practice the names of items around them in their homes, specifically items found in the kitchen, laundry room, bathroom, dining room, living room, bedroom, garage, and office.
Each vocabulary unit includes 9 vocabulary words with differentiated worksheets, an adapted book, leveled task cards, Bingo and Who has games, flashcards and more!
Specifically, you will find the following activities in EACH unit as linked above:
Games
P3-12: Bingo Boards (print calling cards from flashcard section)
P13-17: Bingo Boards WORDS
P18-20: "I have, who has" Game
P21-23: Vocabulary Page + File Folder / Matching Activity
Flashcards (also can be used as a memory game!)
P24-25: Flashcards – COLOR pictures and words together
P26-27: Flashcards – B&W pictures and words together
P28-29: Flashcards - Words only
P30-31: Flashcards – Definitions
P32-33: Word wall strips / labels
P34: Flashcard Activities and Questions idea page
Worksheets
P35-43: Level 1: Find the ____ (pictures) *circle, point, or use dot marker
P44-52: Level 2: Find the ____ (words)
P53-56: Level 1: Matching Pictures - drawing lines, cut and paste
P57-60: Level 2: Matching Picture to Word - drawing lines, cut and paste
P61-63: Color and Graph
P64-66: Writing (Levels are p64 trace, p65 copy, and p66 write)
Journals P67: Explanation
P68-76: Level 1 journal page (Students will trace, write, color, and draw)
P77: Level 2 journal page (print one for each topic)
Coloring Book
P78: Directions
P79-83: Color and Trace
P84-88: Color and Write
89-93: Draw and Write
Data
P94: Vocabulary data sheet
Organization
P95-100: Student folder set up
Adapted Book
P101-102: Example and instructions
P103-109: Adapted Book
Task Cards (levels overlap pages to save paper)
P110: Task Card Covers
P111-113: Errorless
p113-115: Clip art match
P115-117: Clip art to real picture match
P117-119: Word to clip art match
Boom Learning Activities:
Boom Cards are compatible with Google Classroom™, SeeSaw, and other similar online platforms that permit you to assign by URL.
To use Boom Cards, you must be connected to the Internet. Boom Cards play on modern browsers (Chrome, Safari, Firefox, and Edge). Apps are available for Android, iPads, iPhones, and Kindle Fires.
For security and privacy, adults must have a Boom Learning account to use and assign Boom Cards. With a free account, you will be able to assign the Boom Cards you are buying with "Fast Pins" (play provides instant feedback for self-grading Boom Cards). Fast Play is always a free way for students to engage with Boom Cards decks. For additional assignment options and data collection, you'll need a premium account. If you are new to Boom Learning, you will be offered a free trial of our premium account. Read here for details: http://bit.ly/BoomTrial.
Task Cards:
Online task card activity! Works on simple vocabulary around the house! 4 levels include: errorless, identical matching, non-identical matching, and word recognition. Student is shown a picture of a household item, given the audio to "find the ___" and then two choices to chose from.
Try out level 2 on boom cards HERE.
Boom Books:
Engage your students with AUDIO and drag and drop features!There are 8 books included and each books has 9 vocabulary items based on the following rooms
Test out the living room book by clicking the link HERE!
With the bundle you get over 900 pages of activities and resources to use with your students!
Want a prepped and shipped version of these books? Grab those here.