---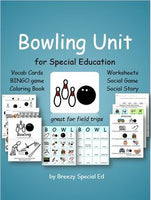 Bowling Field Trip Unit for Special Education
Planning a bowling field trip? This unit, available as a convenient digital download, will help your students prepare and get excited for their bowling community trip! Includes activities that connect to math and language arts concepts for cross-curricular learning, as well as social skills and community education. Appropriate for special needs students of all ages, ability levels ranging from PreK-2nd grade.
15 Bingo Boards + Calling Cards: 10 symbol boards, 5 word boards, 16 3x3 calling cards (also double as vocab cards)
4 Worksheets -Identifying "Bowling Pin" and "Bowling Ball" symbols by coloring/circling each a different color and then counting how many of each -Cut and Paste the pins to set up the pins, 2 versions, 1 for one to one correspondence and 1 with numbers for number matching. -Count the dollars needed to buy 5 different things that you might find at a bowling alley.
"What to Say" Game:12 mini cards with 6 bowling scenarios and 6 responses. Can be done as a matching activity, a group activity with each student getting a response card, even a memory game.
Bowling Field Trip Social Story: This social story has 5 simple points about going bowling on a field trip.
Coloring Book: 8 half-pages to be staples together as a book. The book talks about what happens when you go bowling (strike, spare, gutter, and even knocking down just a few pins) and also includes waiting and cheering on friends.
Social Story Book: Same story as the coloring book except full size pages and in color so you can use as a teaching tool and add to your classroom library. Check out my other community units listed below!

Buy ALL 8 Community Units in this BUNDLE and SAVE!