---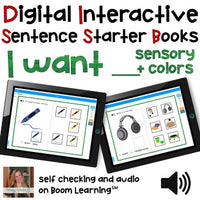 Digital Interactive Books - I Want - Sentencer Starter Books - Boom Cards™
Distance Learning: engage your students with AUDIO and drag and drop features!
This set of two interactive digital books on colors and sensory items are hosted on the Boom Learning℠ Site and focuses on using the sentence starter "I want ___." This story is read aloud and student will drag and drop to match the correct picture on each page.
Test out the "I want" sensory items book by clicking the link HERE!
These interactive/adapted books are designed to help your students become more comfortable readers and more fluent speakers.
The sentences on the bottom all follow the same format of "I want ___" (insert color/sensory item). Using carrier phrases like this help students get used to speaking in longer sentences and once you have them speaking in sentences while reading, you can encourage that even more in everyday activities!
★ Interactive Books with Audio on Boom Cards:
Colors - 8 pages (pages are in random order each time)
Sensory Items - 8 pages (pages are in random order each time)
Boom Cards are compatible with Google Classroom™, SeeSaw, and other similar online platforms that permit you to assign by URL.
To use Boom Cards, you must be connected to the Internet. Boom Cards play on modern browsers (Chrome, Safari, Firefox, and Edge). Apps are available for Android, iPads, iPhones, and Kindle Fires.
For security and privacy, adults must have a Boom Learning account to use and assign Boom Cards. With a free account, you will be able to assign the Boom Cards you are buying with "Fast Pins" (play provides instant feedback for self-grading Boom Cards). Fast Play is always a free way for students to engage with Boom Cards decks. For additional assignment options and data collection, you'll need a premium account. If you are new to Boom Learning, you will be offered a free trial of our premium account. Read here for details: http://bit.ly/BoomTrial.
___________
This listing is for one classroom. If using for more than one classroom/teacher, please purchase additional licenses as needed.