---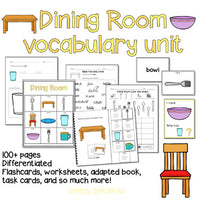 Dining Room Vocabulary Unit (Special Education and Autism Resource)
This vocabulary resource for special education classroom includes words of items you'd find in a dining room (or any eating space) and over 100 pages of resources! This life skill vocabulary pack includes flashcards, worksheets, a file folder activity, an adapted book, task cards, coloring book, a data sheet, and SO MUCH MORE on the pictures/words: plate, bowl, cup, spoon, knife, fork, mug, table, and chair.
☞Buy all the household units below (including this unit) and SAVE $$$ with this Around the House BUNDLE.☜
Pages included:
Games
P3-12: Bingo Boards (print calling cards from flashcard section)
P13-17: Bingo Boards WORDS
P18-20: "I have, who has" Game
P21-23: Vocabulary Page + File Folder / Matching Activity
Flashcards (also can be used as a memory game!)
P24-25: Flashcards – COLOR pictures and words together
P26-27: Flashcards – B&W pictures and words together
P28-29: Flashcards - Words only
P30-31: Flashcards – Definitions
P32-33: Word wall strips / labels
P34: Flashcard Activities and Questions idea page
Worksheets
P35-43: Level 1: Find the ____ (pictures) *circle, point, or use dot marker
P44-52: Level 2: Find the ____ (words)
P53-56: Level 1: Matching Pictures - drawing lines, cut and paste
P57-60: Level 2: Matching Picture to Word - drawing lines, cut and paste
P61-63: Color and Graph
P64-66: Writing (Levels are p64 trace, p65 copy, and p66 write)
Journals P67: Explanation
P68-76: Level 1 journal page (Students will trace, write, color, and draw)
P77: Level 2 journal page (print one for each topic)
Coloring Book
P78: Directions
P79-83: Color and Trace
P84-88: Color and Write
89-93: Draw and Write
Data
P94: Vocabulary data sheet
Organization
P95-100: Student folder set up
Adapted Book
P101-102: Example and instructions
P103-109: Adapted Book
Task Cards (levels overlap pages to save paper)
P110: Task Card Covers
P111-113: Errorless
p113-115: Clip art match
P115-117: Clip art to real picture match
P117-119: Word to clip art match
 One of the first steps to becoming a more successful individual is knowing what the things around you are! I used these worksheets with my high school special education class who were functioning anywhere between a Pre-K to 1st grade level.
Want a prepped and shipped version of this book and task cards? Grab those here.