---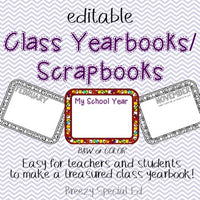 End of the Year Class Scrapbook / Yearbook *Editable*
This editable scrapbook template will help you create a cherished memory book that will highlight all of the fun things you did with your class throughout the school months!
Included are blank pages with seasonal borders so that you can customize each month with your class pictures.
As the teacher, all you need to do is open up this file in PowerPoint, add pictures, edit captions, and print copies for your class!
Options to print in color OR b&w and have students color their own page borders.
Some ideas to get students involved:
Option 1 (great for lower students):
 Teacher adds class pictures and captions and prints copies for each student. Students can color each page and add stickers. Students could also glue each page on construction paper.
Option 2 (great for non-writers):

 
Teacher customizes the captions before printing and prints pictures separately for students to cut and paste OR has students draw pictures on each monthly page.
Option 3 (great for students who can write):
 Teachers can add pictures to each page or leave blank and print as is - with or without captions. Students can cut and paste pictures, draw their own, or write on each page their memories from that month and the fun things they did together.
This book is a great way to review all of the fun you had this year and perfect to send home as a treasured keepsake!