---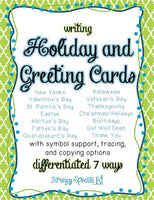 Sale
Holiday and Greeting Cards BUNDLE Differentiated - Special Ed / Autism
Sale price $30.00 Regular price $48.00
Writing cards is a fun and educational life skill that is important for all of our students to learn. With learning how to write a card, students aren't only learning important writing skills, but social skills as well.
Holidays
New Years(this is a free set, and only has one design)
Valentine's Day
St. Patrick's Day
Easter
Mother's Day
Graduation
Father's Day
Grandparent's Day
Halloween
Veteran's Day
Thanksgiving
Christmas and Holidays
Year Round Cards
Birthdays
Thank You Cards
Get Well Soon
Invitations
 Each set includes at least 4 different card designs with 7 different levels of support to give students the levels of support they need to help them express their thoughts. 
Level 1: Visual sentence starters and choices to fill in the blanks (separate page of choices so that students can cut and paste)
1.1 :Large print (this will need to be cut in half and glued to a folded construction paper)
1.2: Regular size
Level 2: Sentence starters to trace with fill in the blank options
2.1: Dotted tracing font
2.2: Solid gray tracing font
Level 3: Blank cards for students to write their own message (page of sentences and sentence starters included if they need ideas)
3.1: Lines that go across the two inside pages.
3.2: Smaller lines that go on the one inside page.
3.3: No lines.
I use this with my high school class, but it would be appropriate for early learners of any age. I hope you find this helpful as well.