---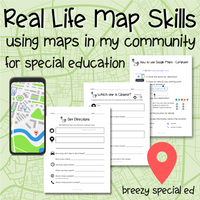 How to Get Directions - using maps for special education life skill students
Have your students get directions to places in their community with this resource! Students will use a computer or device with a map app in order to find directions and compare distances with 15 types of places in their own community.
This resource includes:
Visual instructions on how to use Google Maps on a computer or app
15 locations
Open-ended list worksheets
Directions Worksheets 2 levels
Comparing Worksheets 2 levels
Get Directions Worksheets
Level 1 - Student will write in their home (or school) address and name of the place (ex. "Walmart "for grocery store or they can write "grocery store") on the sheet *or this can be done ahead of time by the teacher and the students will then copy/type into Google. Students will find the directions online and then copy how long it will take, how many miles, and the hours they are open. They will circle yes/no if they are open today. The only writing that is necessary is numbers and could be done with number stamps if the student can't write.
Level 2 same as level one with more details. For example, the student could write the store name as well as the address. Students will also have a chance to write down the website and phone number (as well as some other details depending on the location)
Comparing Distances Worksheet - Which one is closest?
Level 1 - Students will write in the names of the stores and how long it will take to drive there as well as how many miles away.
Level 2 - Students will write in the names of the stores and/or the address, how long it will take to drive there, how many miles away, and the hours open.
Two options for completing:
Option 1: Name and street address
Option 2: mailing address with house number, street on first line and then city, state, zip on the second
Open-ended list worksheets
Options for use
Write names
Write names and addresses (or just the town)
Write names and prices (ex. for hotels or gas stations).
Name and include distances (in miles or time) and then have students number in order of closest to furthest
Have students circle the place they would go to after completing the list
Teachers should show students how to use Maps together and go through some scenarios. Use the visual instructions to help students remember the steps. Teachers can direct students to use either school as their starting point or their home address. 

These worksheets can lead to further discussion about these community areas and how to use them.
Students will need internet access on a device with Google Maps or a computer to complete the worksheets.