---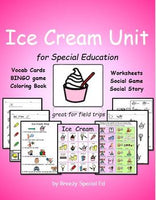 Ice Cream Unit for Community Trips {special education}
Planning an ice cream shop community trip? Maybe an end of the year celebration? This packet will help your students prepare and get excited for their ice cream adventure!
Appropriate for special needs students of all ages, ability levels ranging from PreK-2nd grade. I am using this unit with my high school special education class.
15 Bingo Boards + Calling Cards
: 10 symbol boards, 5 word boards, 16 3x3 calling cards (also double as vocab cards)
10 Worksheets
Variety of simple skills with ice cream visuals. Such as identifying cone/cup, matching popsicle colors with flavors, adding items in an order, counting items, copying colors, writing menu items, etc.
What do I Say? Game:
 12 mini cards with 6 scenarios "If the cashier…" and 6 responses "I say…" Can be done as a matching activity, a group activity with each student getting a response card, a memory game, or during 1:1 instruction
Ice Cream Shop Field Trip Social Story:
 This social story has 6 simple points about going to an ice cream shop on a field trip.
Coloring Book:
 8 half-pages to be stapled together as a book. This coloring book also doubles as a social story. The book talks about the steps of ordering your food at an ice cream shop, talking to the cashier, reading the menu, making a choice, waiting, and eating with friends!
Ice Cream Shop Book:

 
8 full pages in color with the same words as the coloring book, to be used as a teaching book or in your classroom library.
Check out my other community units below!
Buy ALL 8 Community Units in this BUNDLE and SAVE!