---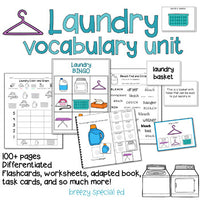 Laundry Vocabulary Life Skill Unit for Special Education
This life skill digital download vocabulary set includes nine laundry vocabulary words and over 100 pages of resources! This life skill vocabulary pack includes flashcards, worksheets, a file folder activity, an adapted book, task cards, coloring book, a data sheet, and SO MUCH MORE on the pictures/words: washer, dryer, detergent, bleach, dryer sheets, iron, ironing board, hanger, and laundry basket.
☞Buy all the household units below (including this unit) and SAVE $$$ with this Household Unit BUNDLE.☜ 
Pages included:
Games
P3-12: Bingo Boards (print calling cards from flashcard section)
P13-17: Bingo Boards WORDS
P18-20: "I have, who has" Game
P21-23: Vocab Page + File Folder / Matching Activity
Flashcards (also can be used as a memory game!)
P24-25: Flashcards – COLOR pictures and words together
P26-27: Flashcards – B&W pictures and words together
P28-29: Flashcards - Words only
P30-31: Flashcards – Definitions
P32-33: Word wall strips / labels for laundry items
P34: Flashcard Activities and Questions idea page
Worksheets
P35-43: Level 1: Find the ____ (pictures) *circle, point, or use dot marker
P44-52: Level 2: Find the ____ (words)
P53-56: Level 1: Matching Pictures - drawing lines, cut and paste
P57-60: Level 2: Matching Picture to Word - drawing lines, cut and paste
P61-63: Color and Graph
P64-66: Writing (Levels are p64 trace, p65 copy, and p66 write)
Journals P67: Explanation
P68-76: Level 1 journal page (Students will trace, write, color, and draw)
P77: Level 2 journal page (print one for each topic)
Coloring Book
P78: Directions
P79-83: Tracing
P84-88: Color and Trace
89-93: Draw and Trace
Data
P94: Vocab data sheet
Organization
P95-100: Student folder set up
Adapted Book
P101-102: Example and instructions
P103-109: Adapted Book
Task Cards (levels overlap pages to save paper)
P110: Task Card Covers
P111-113: Errorless
p113-115: Clip art match
P115-117: Clip art to real picture match
P117-119: Word to clip art match
I used these laundry room worksheets with my high school special education class who were functioning anywhere between a Pre-K to 1st grade level.
Want a prepped and shipped version? Grab it here.