---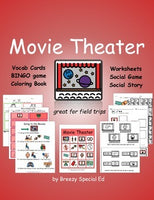 Movie Theater Community Trip Unit for Special Education
Taking your students to the movie theater? This packet will help your students prepare and be successful during their movie theater experience!
Appropriate for special needs students of all ages. I use this with my high school special education students, whose ability levels range from PreK-2nd grade.
15 Bingo Boards + Calling Cards
: 10 symbol boards, 5 word boards, 16 3x3 calling cards (also double as vocab cards)
5 Movie Themed WorksheetsMovie Genre Game:
12 mini cards with 6 question cards and 6 responses. Can be done as a matching activity, a group activity with each student getting a response card, even a memory game or file folder.
Movie Theater Trip Social Story:
 This social story has 5 simple points about going to the movie theater on a field trip.
Movie Theater Coloring Book:
 8 half-pages to be stapled together as a book. The book talks about the steps of going to a movie theater including choosing a movie and time, paying for your ticket, and finding a place to sit. Essentially a social story disguised as a coloring book.
Movie Theater Book:

 
8 full pages in color with the same story as the coloring book. To be used as a teaching tool or in your classroom library.
Check out my other community units listed below!
Buy

 

ALL 8 Community Units in this BUNDLE

 

and SAVE!