---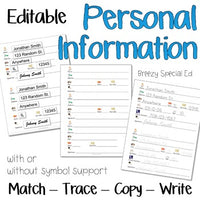 Personal Information Practice Forms for Special Education
PDF Autofill your student's personal info! They can trace their info and have it faded as well as they continue to practice their personal information. These forms offer a realistic way to practice the most essential personal information, such as name, address, birthday, age, and others. I choose one form for each student and make multiple copies (or laminate) and keep in their binder for morning work and if they have down time.
Distance Learning: Also includes google forms that you can copy (and personalize if desired to use on iPads or computers!
All 7 forms (of varying levels from writing or identifying name to writing personal information including address, birthday, age, email, and more) are available with or without symbol support and include options to use blank/copying, tracing, or matching. ID cards are included for additional cues and practice. In addition to the forms, students can practice their personal information on the including books or half page cards.
Forms are easily editable to include your student's information using an autofill PDF or PowerPoint. (Only student info text is editable) Download the preview for more details and to see sample IEP goals and objectives!