---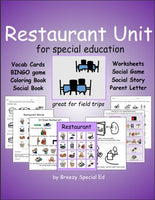 Restaurant Community Trip Unit for Special Education
Taking your students to a sit down restaurant? This packet will help your students prepare and be successful during their restaurant experience!
Appropriate for special needs students of all ages. I use this with my high school special education students, whose ability levels range from PreK-2nd grade.
✮✮✮Check out a 
video preview of this product here
✮✮✮
15 Bingo Boards + Calling Cards
: 10 symbol boards, 5 word boards, 16 3x3 calling cards (also double as vocab cards)
5 Restaurant Themed WorksheetsWhat to Say? Game:
12 mini cards with 6 situation cards and 6 responses dealing with how to respond to different scenarios at a restaurant. Can be done as a matching activity, a group activity with each student getting a response card, even a memory game or file folder.
Restaurant Social Story:
 This social story has 5 simple points about going to a restaurant on a field trip.
Restaurant Coloring Book:
 8 half-pages to be stapled together as a book. The book talks about what you do at a restaurant
Social Story Book:
 Same story as the coloring book except full size pages and in color so you can use as a teaching tool and add to your classroom library.
Check out my other community units listed below!
Buy

 

ALL 8 Community Units in this BUNDLE

 

and SAVE!