---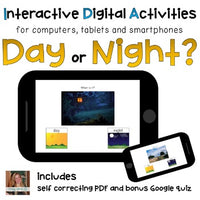 Time of Day ⋅ Digital PDF ⋅ Interactive Activities for Special Education
Distance Learning with Digital Activities. This time of day interactive PDF activity is self-correcting, which means students are unable to move on until they answer correctly. The Google Quiz allows you to assess progress and take data.
Are your students motivated by technology? Now you can bring task cards to the iPad (or Smartboard, smartphone or computer!). You can also use these activities in your online classroom, such as Google Classroom.
How to use:
Download to device (computer, iPad, etc) and play in "fullscreen" mode.
If student answers correctly, they will receive a fun "yes" screen.
If the student answers incorrectly, they will see a "no" and be prompted to try again.
These questions work on knowing the difference between day and night using REAL PICTURES.
These 40 time of day task cards help practice the skill of knowing what time of day it is. Each task card has the same format: The question "When is it?" at the top, the picture in the middle, and two options of day and night below. No reading required due to visuals on every question so that non-readers can use as well.
Most pictures are outside and have light/dark cues; however a few pictures require students to use context (kids at school means day, person sleeping means night)
Interactive PDF: 40 visual questions including real pictures with the visual choices for day or night
Google Quiz: 10 question quiz that you can copy and send to your class. After the 10 questions are answered, students will be able to see how they did (and you will be able to see their responses as well)!
*You are also able to make additional copies of the google quiz and can change pictures to create as many quizzes on the subject as you would like!
If you would also like a physical copy of these task cards, you can check those out here
_______________________
Learn when I post new products by following me!
★Click the green star that says "Follow Me" near the top of any page within my store and you will officially be a follower!