---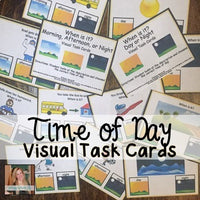 Time of Day - Visual Life Skill Task Cards for Special Education / Autism
These 40 time of day task cards help practice the skill of knowing what time of day it is. Each task card has the same format: The question "When is it?" at the top, the picture in the middle, and then the options below. UPDATED 8/2018
This task card set comes with 2 levels.
✔
Level 1
 includes only "day" and "night" for option and REAL pictures.
✔
Level 2

 
includes "morning", "afternoon" and "night" and symbols include activities, such as going to school, eating breakfast, watching TV, doing homework, etc. Level 2 also includes a sentence about the activity but it is still not necessary for student to be able to read in order to do these task cards. (real pictures are not used for level 2 as they gave students additional cues, such as light/dark, and I want them to think about the activity, not just the way the picture looks)
Students do not need to be able to read in order to complete these task cards independently!
What's included:
-Sample IEP goals/objectives
-Data sheet
-40 task cards (20 for each level) + a blank set of 4 for each level so that you can print out and glue any additional items you would like to work on.
Task cards can be used during direct instruction, individual work, and in work task boxes. Printing on cardstock and/or laminating is recommended. Students can choose their answer by talking, pointing, clipping on a clothespin or paperclip, or circling with a dry erase marker.