---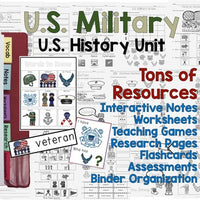 US Military / Veterans History Unit - Differentiated Resources
This unit is perfect for your special education, elementary, or co-taught US History class. Topics covered are the U.S. military (all 5 branches) and veterans. Perfect to teach around Veteran's Day and to show support to our troops!
A WIDE range of resources allow for each learner to be successful at their own level and give multiple ways to learn.
Interactive Notes
: 2 levels for non-writers/tracers and writers. Notes including activities such as fill in the blank, color, circle, etc. to keep students engaged and participating during a lesson.
Worksheets
: 19 worksheets with a variety of levels including activities like circle the picture, matching picture to picture or word by drawing a line or cutting and pastes, writing, copying or tracing vocabulary words, and graphing.
Research
: Also 2 levels to allow students to further learn about a topic either independently, in a small group, or as a class.
Vocabulary
: Flashcards including pictures, words and definitions. Great for student practice and games like memory, go fish, and more!
Teaching Games
: Games to use with your class include Bingo and I have..who has?
Assessments
: 2 levels included for all assessments. Pre and post tests, quizzes for each topic (can also group all quizzes together for a final assessment), and data sheets to keep track of student progress!
Binder Set Up
: Help your students keep their materials organized with these binder dividers and tabs.