---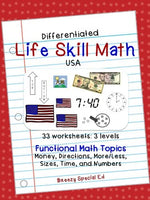 USA Differentiated Life Skill Math Pack for Special Education
This USA themed life skill math pack is fun to incorporate around national holidays (such as the 4th of July) or alongside a USA history unit, all while making sure your students get the life skill practice they need. You'll love this PRINT and GO math pack, already differentiated for three different skill levels.
Want USA journaling activities? Find leveled USA Journals here .
Life skill math topics include:
• money
• directions
• more/less
• size
• time
• numbers
Variety and Repetition: This pack includes two different style worksheets for each topic and level. Students will quickly learn worksheet format as they go through each themed pack.
Multiple Steps: Worksheets include multiple steps (cut/paste, color, etc) so that students do not fly through them and are able to work on a variety of concepts at the same time. If the multiple steps take too long for some students, you can tell them to do something quicker instead (ex. circle instead of color, or write instead of cut and paste).
Printing Options: All worksheets can be printed in black and white or color as needed in order to provide additional levels of supports for students.
☆☆☆☆☆Save $$$ and Buy ALL of the math life skill packs BUNDLED HERE and be good to go for the entire year!☆☆☆☆☆