---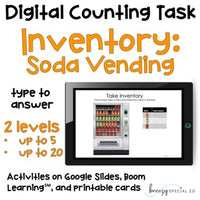 Vending Machine Soda Inventory - Digital Counting Practice for Special Ed
Need a functional, vocational way to work on counting? Students can practice taking inventory of different types of soda in the vending machine!
Differentiated! There are 10 different cards, each with 3 different types of items to count, for each of the two levels.
Level 1: Up to 5
Level 2: Up to 20
Students will count how many of each item and type that number in the box. This activity is available in multiple formats:
Google Slides: There are two separate files (up to 5 and up to 20) you can make copies of and assign to your class. You can delete slides to adjust the amount of work they complete at a time, or assign one slide a day.
Make a copy for each student so they can complete all of the slides on their own (you can do this in one step if using Google Classroom) OR assign a slide to each student and then go over it together.
Boom Learning: These two boom card activities are SELF CHECKING and also include an option for students to click to hear audio instruction on each page. They will click submit to check their work and have the opportunity to change their answers if needed. These are set to a default of 4 cards per time played, and that can be adjusted by the teacher to however many you want your students to complete at a time.
Preview this deck HERE!
Boom Cards are compatible with Google Classroom™, SeeSaw, and other similar online platforms that permit you to assign by URL.
To use Boom Cards, you must be connected to the Internet. Boom Cards play on modern browsers (Chrome, Safari, Firefox, and Edge). Apps are available for Android, iPads, iPhones, and Kindle Fires.
For security and privacy, adults must have a Boom Learning account to use and assign Boom Cards. With a free account, you will be able to assign the Boom Cards you are buying with "Fast Pins" (play provides instant feedback for self-grading Boom Cards). Fast Play is always a free way for students to engage with Boom Cards decks. For additional assignment options and data collection, you'll need a premium account. If you are new to Boom Learning, you will be offered a free trial of our premium account. Read here for details: http://bit.ly/BoomTrial.
Printable: Print 1 to a page (great to put in page protectors and in a binder), half pages, or fourths (the typical task card size)
Want more digital inventory activities? Grab this one and more in the discounted digital inventory bundle!
________________
Breezy Special Ed 2020