---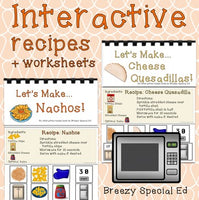 Visual Recipes for Nachos and Cheese Quesadillas for Special Education
These books and worksheets make it easy to teach and practice cooking skills in the classroom!
Included in this digital download is recipes for nachos and cheese quesadillas. All you'll need is tortilla shells, tortilla chips, shredded cheese, and a microwave.
Visual Recipe: This one page visual recipe is great for visual learners in the kitchen!
Recipe Worksheets:
- Sequencing (1 worksheets - 3 levels. 1: Cut and paste both pictures and sentences, 2: Partial cut and paste and draw/write the other half, 3: Draw and write the recipe steps.)
- Review / Quiz (2 levels. 1: symbol supported 2: text)
Interactive Books: The books can be used in the classroom as practice for cooking (great for classrooms without access to kitchens) or as recipe guides while cooking. 2 levels included in one book - perfect for both readers and non-readers.
Each recipe is broken down into multiple different steps. (Extra steps may be included in the book that aren't seen in the one page recipe in order to provide more step by step practice, especially if the students aren't able to practice it in the kitchen!)
Want a prepped and shipped version? Grab it here.
Grab all the visual recipes and interactive books in this BUNDLE HERE.