---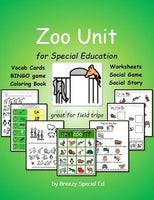 Zoo Unit for Field Trips {Special Education}
Planning a zoo field trip? This packet will help your students prepare and get excited for their zoo community trip!
Appropriate for special needs students of all ages, ability levels ranging from PreK-2nd grade.
15 Bingo Boards + Calling Cards
: 10 symbol boards, 5 word boards, 16 3x3 calling cards (also double as vocab cards)
5 Zoo Themed Worksheets
-2 Cut and Paste: Sorting Expected and Unexpected behavior, Matching animals
-2 Circle and Count: Identifying animals by color and by size
-Math: Count the animals
Who Questions Game:
12 mini cards with 6 who questions. Can be done as a matching activity, a group activity with each student getting a response card, a memory game, or during 1:1 instruction
Zoo Field Trip Social Story:
 This social story has 6 simple points about going to the zoo on a field trip.
Zoo Coloring Book:
 8 half-pages to be stapled together as a book. The book talks about who works at the zoo, the types of animals that live there, that animals stay in cages, and we walk around to see them, as well as discussing favorite animals.
Zoo Book:

 
8 full color pages of the coloring book version also included. Great to use for your classroom library and for an example while students are coloring their books.
Check out my other community units listed below!
Buy

 

ALL 8 Community Units in this BUNDLE

 

and SAVE!