---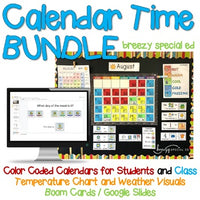 Sale
Digital and Bulletin Board Calendar Time BUNDLE
Sale price $18.00 Regular price $20.50
Prepare for back to school with these special education calendar visuals. This bundle includes both digital and bulletin board visuals for your calendar time and morning meeting! The bundle includes the following resources:
Student Color Coded Calendars and Class Calendar Numbers: These color coded calendars help students know what to expect and to look forward to each month. Available as student worksheets and a printable version to use for your class calendar.
Temperature Weather and Visuals: visual, color coded temperature chart, sentence strips ("The temperature is ___", "The weather is ____", "The season is ____", "I should wear ___ and ____.") and well as visual options for those cards.
DIGITAL Morning Meeting on Boom or Google Slides:
-Editable* welcome slide
-Day of the Week (two options, delete one)
Option 1 (Today only)
Option 2 (Yesterday, Today, and Tomorrow)*
-Month
-Today's Date (two options, delete one)
Option 1 (all numbers so students will only drag and drop one box)
Option 2 (students will drag two numbers to make up multiple digits dates)*
-Year
-Season
-Weather
-Temperature
-Clothing
-Feelings
-Editable* end slide
*editable and option 2s are only available on the Google Slides version.
For more information on any of these included resources, please check out the individual listings and previews.